Bad Witches
About this Event
Are you WITCH curious? Here's your chance to get a firsthand glimpse into the magical world of witches and all that witches can do! We're partnering with a seriously impressive lineup of local Vancouver BAD WITCHES and The Coven Club who are excited to show you their power and ask all your creepy questions. So get cozy, grab a spooky friend, and get ready to do Halloween right this year!
Each ticket includes ONE entry for an incredible Raffle full of witchy thangs 🙂 Grab an extra raffle ticket or two at checkout to increase your chances!
PS: We are donating profits to Atira (https://atira.bc.ca/) – a not-for-profit organization committed to the work of ending violence against women!
ABOUT THE EVENT
HERBALISM + POTIONS
Lead by: Jessie Robertson of @witchesofvancouer and @jessiespotions
Jessie will explore the topic of herbalism, provide a brief history of herbalism with witches, and how she came to her understanding as a witch and her emphasis on exploring this domain personally and with her venture Jessie's Potions – available online as well as Raven's Veil (in Vancouver) and Oak & Aether (in Kamloops)
TAROT READING
Lead by shared session: Natalie Love @high_priestess999 & Lindsay Braynen of Dark Lake Tarot @darklaketarot
Natalie Love is a 30+ year Lightworker, Clairvoyant, Tarot Reader, Reiki Healer & Intuitive Healer Witch. She will explore the topic of tarot, provide a brief history and her extensive experience with reading tarot, delve a bit into her methods and emphasis in this area.
Lindsay Braynen of Dark Lake Tarot
Lindsay is a Tarot Reader and Star-Gazer. She will explore her work as an intuitive tarot reader and on her personal and professional practice.
CRYSTAL/CRYSTAL HEALING
Lead by: Imogen O'neal aka The Hazel Witch | thehazelwitch.net
Imogen will explore her love and practice with sourcing and selling ethically sourced crystals, discuss some properties and discussion of being a crystal witch.
SPIRIT COMMUNICATION: CORE SHAMANISM & PSYCHIC DEVELOPMENT
Lead by: Mimi Young of Ceremonie (@shopceremonie)
Mimi is a Spirit Communicator + Wu Shamanic Intuitive, with a focus on plant and ancestral connection. She will explore topics on core shamanism, her practice involving plant medicines and her extensive work in the physical, psychic, and energetic senses in the context of magic, dreams, foretelling, and healing.
HISTORY OF WITCHCRAFT
Lead by: Jessie MacPherson
Jessie will explore brief overview and history of witchcraft and historical practices in rituals, spellwork and more.
HOW DO I KNOW I'M A WITCH/ INTUITIVE?
The Coven Club and their collective of witches will share time to explore how they all came to understanding we were witches of different varieties in more of an open discussion format.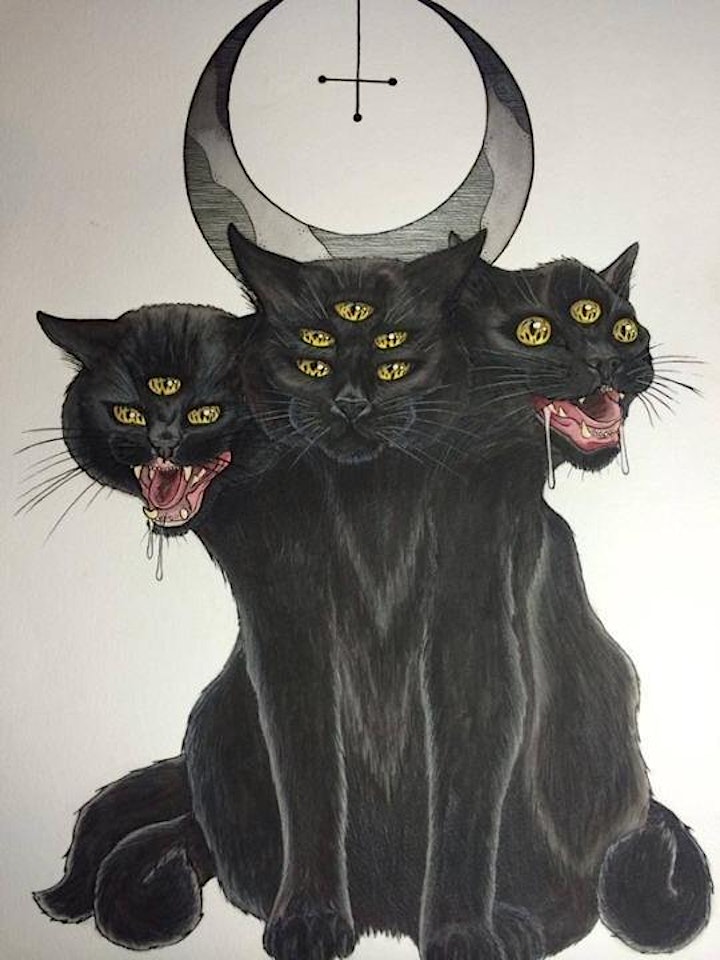 **RAFFLE PRIZES**
– Crystal Starter Set valued at $40
– Raven's Veil Brutally Beautiful, includes a necklace and print
– Raven's Veil Astral Ey, includes 1 spell candle, 3 botanical candles, and print
-A set of awesome Tarot Cards
– And More!